Music + Dining Under the Stars
Welcome to an enchanting evening of live, open-air music and exquisite dining under the stars! Our much-anticipated series, "Music and Dining Under the Stars," is back, and it promises to be an unforgettable experience. Join us outdoors on select Thursdays from 6:00 PM to 9:00 PM as we transform our Lakeview Terrace into a haven of entertainment and culinary delights.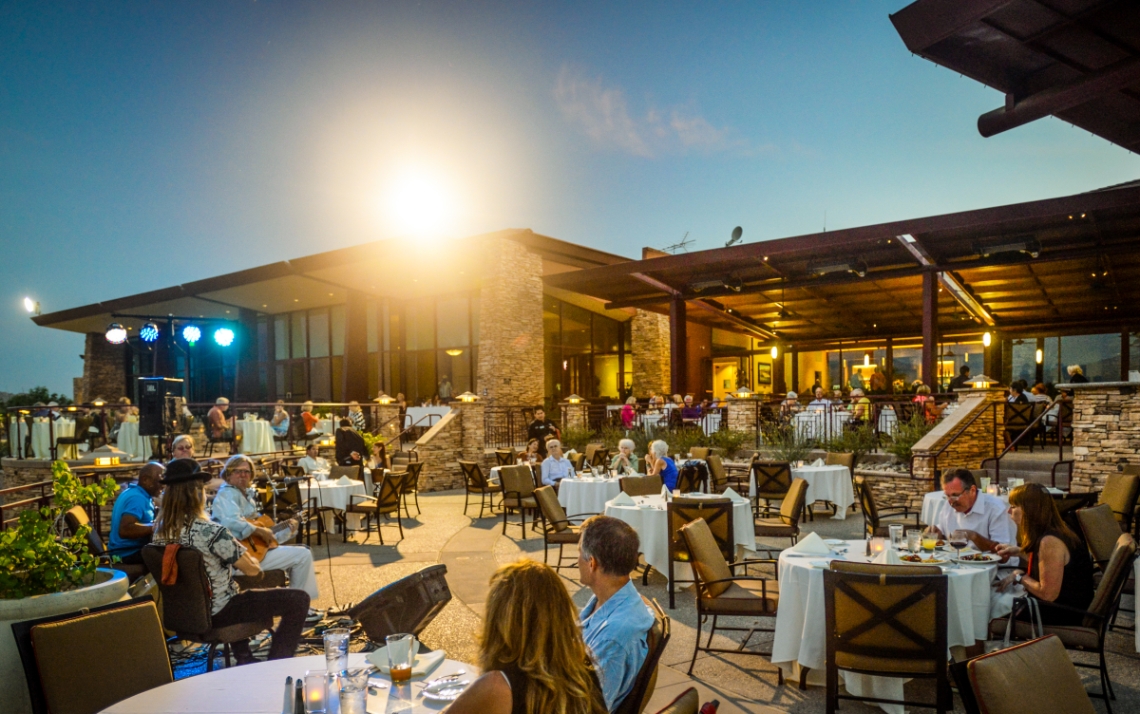 An Evening of Musical Magic Under the canvas of the starry night sky, our live, open-air music and dining series brings a different entertainment act to captivate your senses every time. Whether you're a jazz enthusiast, a rock 'n' roll lover, or appreciate the soothing tunes of acoustic guitar, there's something for everyone. Let the melodies and rhythms sweep you away as you revel in the soothing ambiance.
Culinary Excellence Prepare your taste buds for an extraordinary culinary journey with our hand-crafted dinner buffets. Our Executive Chef, Francois Gaertner, a talented French maestro, and his culinary crew craft a unique buffet for each event, ensuring that your dining experience is always fresh and exciting. Whether you're a foodie or simply looking for a delightful meal, you won't be disappointed.
Dine Alfresco Nestled under the star-studded canopy, you'll have the opportunity to dine alfresco. Enjoy the crisp evening breeze as you indulge in a delectable buffet, each item meticulously prepared to perfection. Complement your meal with one of our signature clubhouse cocktails, specially crafted to enhance your dining experience.
Mystical Moonlight Views As you savor your meal and sip on your chosen libation, you'll be treated to breathtaking views of our Firecliff Course bathed in the exquisite glow of the moonlight. It's a setting that's nothing short of magical, the perfect backdrop for an evening of live music and exquisite cuisine.
---
Entertainment + Buffet Lineup
Get ready to groove and dine at our upcoming Music and Dining Under the Stars events! We're thrilled to unveil an electrifying lineup of bands that promises to cater to every musical taste. From the irresistible rhythms of Funk, R&B, and Disco, to timeless classics and the latest dance hits, our stage will come alive with Motown and Rhythm and Blues classics, as well as the soothing melodies of Hawaiian & Island style music. Join us for an unforgettable night of diverse musical experiences and delectable cuisine, where you can savor the fusion of sensational sounds and tantalizing flavors.
SOLD OUT - Thursday, January 18, 2024

Featuring DysFUNKsion Band

SOLD OUT - Thursday, February 1, 2024

Featuring The Zippers Trio

SOLD OUT - Thursday, February 22, 2024

Featuring Desert Motown Quintet

Thursday, March 7, 2024

Featuring The Ben Benavente Trio

SOLD OUT - Thursday, March 14, 2024

Featuring The Zippers Trio

SOLD OUT - Thursday, March 21, 2024

Featuring DysFUNKsion Band
---
Each Music and Dining Under the Stars event is priced at $69.99 per person, plus tax and gratuity. Please note that this event is open to adults aged 21 years and older.
Seating for the event will commence at 5:45 PM, allowing you to get comfortable and soak in the surroundings. The live music and buffet service will officially begin at 6:00 PM, ensuring that you have ample time to enjoy your meal while the music sets the mood.
Mark your calendar for this extraordinary evening of Music and Dining Under the Stars. It's an experience that seamlessly combines the joys of live music, delectable food, and the enchantment of the desert night sky. Don't miss out on this remarkable opportunity to create lasting memories with friends and loved ones. Advance reservations are required; make your reservations now, and we'll see you under the stars!

---

For more information call (760) 346-7060 ext. 2.
*Price is plus tax and gratuity.