Lunch Menu

The lunch menu at The Terrace Restaurant at Desert Willow Golf Resort is available daily from 11:00 AM to 4:00 PM*.
*Kitchen closes at 3:30 PM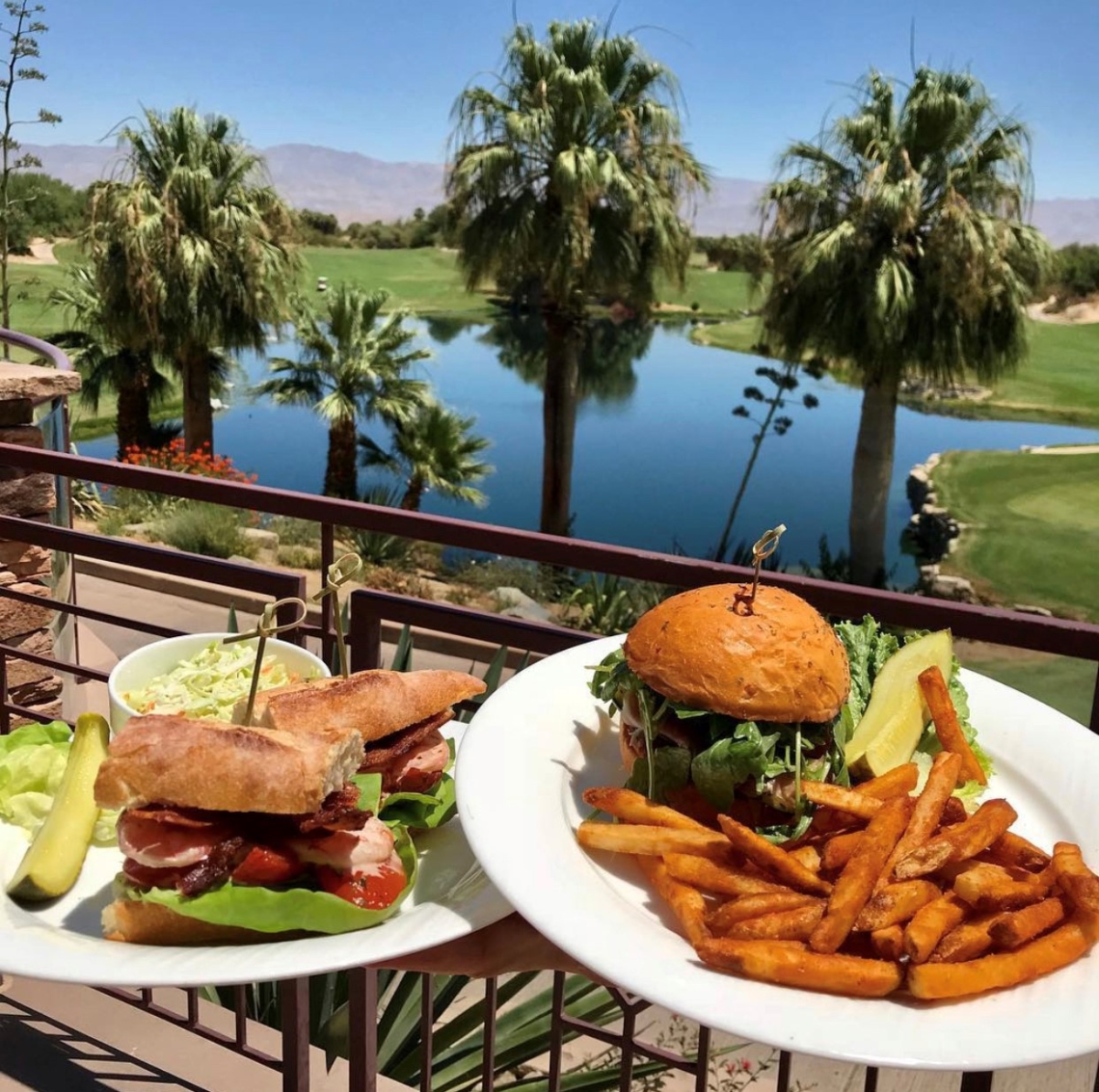 Starters
Terrace Salad...6.99

gf

boston lettuce, cucumbers, shaved carrots and tomato, choice of dressing
| | |
| --- | --- |
| Coconut Shrimp....9.99 | |
| served with pineapple salsa and asian sauce (4 pieces) | |
Onion Ring Tower....9.99

s

erved with ranch and chipotle dressings
Chips and Salsa....5.49

tri-colored chips and homemade salsa
---
Fresh From the Garden
Asian Salmon Salad....17.99
napa cabbage, grenadine pears, pickled ginger, cashews, green onion, mandarin oranges, rice noodles,
asian dressing
Traditional

Caesar Salad....10.99

romaine lettuce, croutons, parmesan cheese, parmesan crisp, caesar dressing

Add Grilled Chicken....14.99

Add Pan Seared Shrimp....17.99

Add Scottish Salmon....19.99
Grilled

Chicken and Pear Salad....15.99

gf

mixed field greens, marinated pear, candied walnuts, bleu cheese crumbles, walnut vinaigrette
Cobb Salad....16.99

gf

iceberg lettuce, ham, turkey, bleu cheese, egg, dried cranberries, tomato, jack cheese, bacon,
bleu cheese dressing
| | |
| --- | --- |
| Papaya Mandarin Salad....16.99 | |
| mixed field greens, papaya filled with chicken salad, mandarin oranges, date nut bread, cilantro lime vinaigrette | |
---
Burgers
Our beef patties are made from brisket, short rib, and chuck Beef.
Served with your choice of: Seasoned Fries | Sweet Potato Fries | Fresh Seasonal Fruit | Coleslaw | Side Salad
Palm Desert Burger....16.99

choice of cheddar or monterey jack, white or wheat bun, choice of side
Firecliff Burger....17.99

jalapeno bacon, roasted red pepper, pepper jack cheese, chipotle sauce, choice of side
Turkey Burger....15.99

monterey jack cheese, avocado, wheat bun, choice of side
---
Sandwiches and Specialties
Sandwiches are served with your choice of:
Seasoned Fries | Sweet Potato Fries | Fresh Seasonal Fruit | Coleslaw | Side Salad
| | |
| --- | --- |
| Club Sandwich....14.49 | |
| turkey breast, ham, bacon, lettuce, tomato, cheddar cheese, mayonnaise, wheat toast, choice of side | |
Monte Cristo....16.99

ham, turkey breast, swiss cheese, dijon mustard, egg battered grilled white bread, raspberry sauce,
choice of side
| | |
| --- | --- |
| Reuben Sandwich...15.99 | |
| corned beef, sauerkraut, swiss cheese, 1000 island dressing, grilled rye bread, choice of side | |
Crab Cake Slider Duo....14.99

pineapple salsa, tartar sauce, brioche bun, choice of side



Pan Seared Fish Tacos....16.99

gf

pico de gallo, baja coleslaw, tortilla chips and guacamole on the side
| | |
| --- | --- |
| Chicken Quesadilla....13.99 | |
| blend of mexican cheeses, sour cream, guacamole, salsa | |
Southwestern Chicken Wrap....13.99

marinated chicken, shredded lettuce, pepper jack cheese, corn, roasted peppers, cilantro, chipotle
dressing, chipotle tortilla, choice of side
---
For dining reservations of six or more please call (760) 346-7060.


An additional $3.00 will be added for splitting an entree.
Consuming raw or uncooked meats, poultry, seafood, shellfish or eggs may increase your risk of food borne illness.
Please alert your server of any food allergies, as not all ingredients are listed on the menu.
A gratuity of 18% will be added to parties of eight or more. Split checks up to (4) per party.