Career Opportunities at Desert Willow Golf Resort
Now Hiring! Come Join Our Team
Located in the center of the Coachella Valley between Palm Springs and Indio, California, Palm Desert is the retail hub and business center for the entire California Desert. Desert Willow Golf Resort is a world-class public premium municipal facility featuring 36 holes of Championship golf designed by Dr. Michael Hurdzan, Dana Fry, and tour consultant John Cook. Desert Willow provides an upscale "Private Club" experience. The 33,000 square foot clubhouse hosts golf events, wedding parties, special events, a scenic restaurant and bar, all in a spectacular setting with endless views of the mountains surrounding the desert. The location and professional staff of Desert Willow Golf Resort provides a dramatic, friendly and comfortable atmosphere for our guests.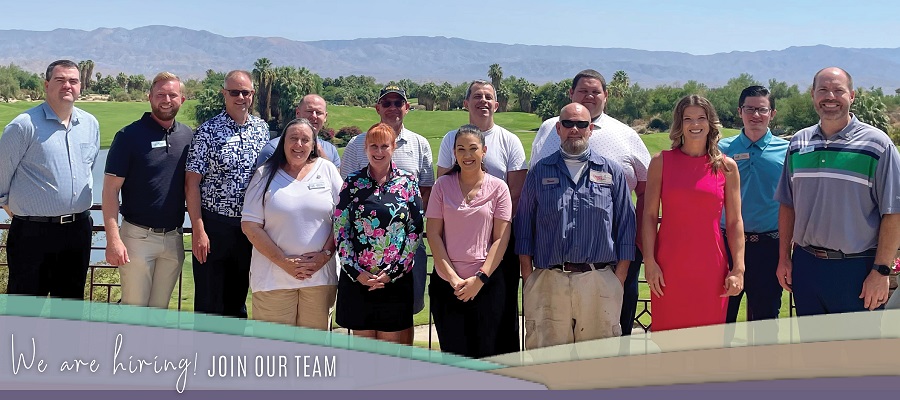 Desert Willow Golf Resort Team Values

Integrity...

We will be honest, have strong moral principles and always do what's right even when it is difficult

Innovative...

We are committed to improvement through the creation and adoption of new ideas

Teamwork...

We will take ownership of any and all responsibilities required for the entire team to succeed

Humility...

We will serve our guests and staff thankfully, graciously and with compassion

Consistency...

We will provide quality experiences each and every time guests come on property

Passion...

We will have fun and enjoy our jobs striving to improve ourselves and our company

Respect...

We will treat our guests and fellow staff members professionally at all times even during disagreements
---
Desert Willow Golf Resort is currently hiring for:
Sous Chef

Works with the Executive Chef in supervising food production for all food outlets, banquet events and other functions at the club. Serves as "second-in-command" of the kitchen in the absence of the Executive Chef. Supervises food preparation personnel, assists with food production tasks as needed and assures that quality and cost standards are consistently attained.

Assistant Food and Beverage Manager

Responsible for all food and beverage service for the club. Directly supervises all food and beverage staff including service staff, banquet staff and beverage cart staff. Trains and supervises subordinates. Applies relevant marketing principles to assure that the wants and needs of guests are consistently exceeded.

Assistant Golf Professional

The Assistant Golf Professional assists with all golf shop activities and outside services operations and is responsible for ensuring that members and guests receive outstanding True Service™ customer service. The Assistant Golf Professional is instrumental in organizing and implementing golf events, tournaments, outings, leagues, teaching clinics, and other golf programs designed to support our team of PGA Professionals and award winning golf experience.

Golf Shop Associate

The Golf Shop Associate assists with all golf shop activities and is responsible for ensuring that members and guests receive outstanding True Service™ customer service. The Golf Shop Associate is instrumental in organizing tee times, checking guests in, managing phones, organizing the merchandise in our golf shop, and assisting with other golf programs designed to support the friendliest golf experience in the Coachella Valley.

Equipment Operator

Equipment Operator, under the supervision of the Assistant Superintendent or Foreman, perform routine manual labor involved in golf course maintenance; do semi-skilled grounds construction and maintenance work; operate small hand-powered equipment; and occasionally perform work involving large equipment such as tractors, loaders and gang mowers. Each greens keeper may be assigned responsibility for the care and maintenance of several designated holes on the golf course and does related work as required.

Banquet Server

Provide friendly, responsive service to create an exceptional dining experience for all of our guests. Each server's primary objective is to show our guests such a marvelous time so they will want to return again and again.

Busser

Serve guests bread, water and butter upon their arrival and provide refills as needed. Remove used tableware between courses; clear and reset tables after guests leave.

Clubhouse Housekeeping

Responsible for cleaning interior of clubhouse, including restrooms, public rooms, hallways and restrooms on the golf course, as well as cob web knockdown.

Cook

Accurately and efficiently cook meats, fish, vegetables, soups and other hot food products as well as prepare and portion food products prior to cooking. Also perform other duties in the areas of food and final plate preparation including plating and garnishing of cooked items and preparing appropriate garnishes for all hot menu item plates.

Dishwasher

Wash and clean tableware, pots, pans and cooking equipment. Keep the dish room and equipment clean and organized.

If you would like to apply for one of the open positions listed above, please complete the below form or fill out an employment application and submit your resume to Roberta Olden at [email protected].
Comprehensive Medical Benefits*
| | | |
| --- | --- | --- |
| | | |
| | | |
| | | |
| | | |
| Basic Life and Accidental Death Insurance | | Supplemental Life Insurance |
| | | |
| | | |
| | | |
| Flexible Spending Accounts | | 401(k) Retirement Savings (company match) |
| | | |
| Health and Wellness Advocate | | |
*Full time year round positions only