PGA Hope Program
PGA Hope sessions begin on Sunday, November 12, 2023
PGA HOPE

(Helping Our Patriots Everywhere

)

is the flagship military program of PGA REACH, the charitable foundation of the PGA of America. PGA HOPE introduces golf to Veterans with disabilities to enhance their physical, mental, social and emotional well-being.
The program introduces the game of golf through a developmental 6-8 week curriculum, taught by PGA Professionals trained in adaptive golf and military cultural competency. All programs are funded by PGA REACH and supplemented by PGA Section Foundations, so the cost of programming is free to all Veterans.
PGA HOPE has a Memorandum of Understanding (MOU) with the Department of Veterans Affairs (VA), which enables Recreational Therapists to refer Veterans to the PGA HOPE program as a form of therapy. Through a robust program strategy, PGA HOPE aspires to create a physically and emotionally healthier Veteran community by shaping lives, changing lives, and possibly saving lives through the game of golf.
PGA Hope Goals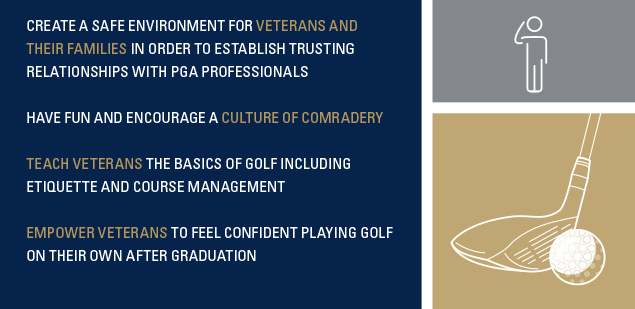 PGA Hope Session Dates




at The Palm Desert Golf Academy




6 Weeks of Instruction - Sundays 2:00pm to 3:30pm
| | | |
| --- | --- | --- |
| November 12, 2023 | | November 19, 2023 |
| Short Game: putting | | Short Game: chipping and pitching |
| | | |
| November 26, 2023 | | December 3, 2023 |
| Full Swing: short Irons and wedges | | Full Swing: mid and long irons off turf and tees |
| | | |
| December 10, 2023 | | SUNDAY, December 17, 2023 |
| Full Swing: Woods Off the Tee | Sand Game | | Final Review: Celebration Scramble |
| | | |
PGA Hope Program Registration
Space is limited to the first 10 participants. SOLD OUT!
The total participants limitation has been reached.
For questions or availability please contact Jeffrey Grant, PGA at (760) 346-7060 Ext. 141 or [email protected].
---
PGA REACH is the 501(c)(3) charitable foundation of the PGA of America. The mission of PGA REACH is to positively impact the lives of youth, military, and diverse populations by enabling access to PGA Professionals, PGA Sections and the game of golf.