Folds of Honor Shootout & Prize Raffle
$250,000 Hole-in-One Shootout Supporting Folds of Honor
"It is our duty to preserve the freedom we so easily take for granted"
The Team at Desert Willow Golf Resort has set a goal to raise $10,000 for Folds of Honor, which will provide TWO scholarships for military families in need. Please help us support the Folds of Honor Foundation with a donation of $25.00 or more!
Every donation earns a raffle entry for a chance at being one of ten contestants in our $250,000 Hole-in-One Shootout on Saturday, December 18, 2021

All ten winners will also receive a prize valued at $250.00 or more (details below)
*Example: a $250.00 donation equals 10 entries into our raffle. **An individual may not win more than one shot in the Hole-in-One Shootout, but they may win multiple prizes valued at $250.00 or more.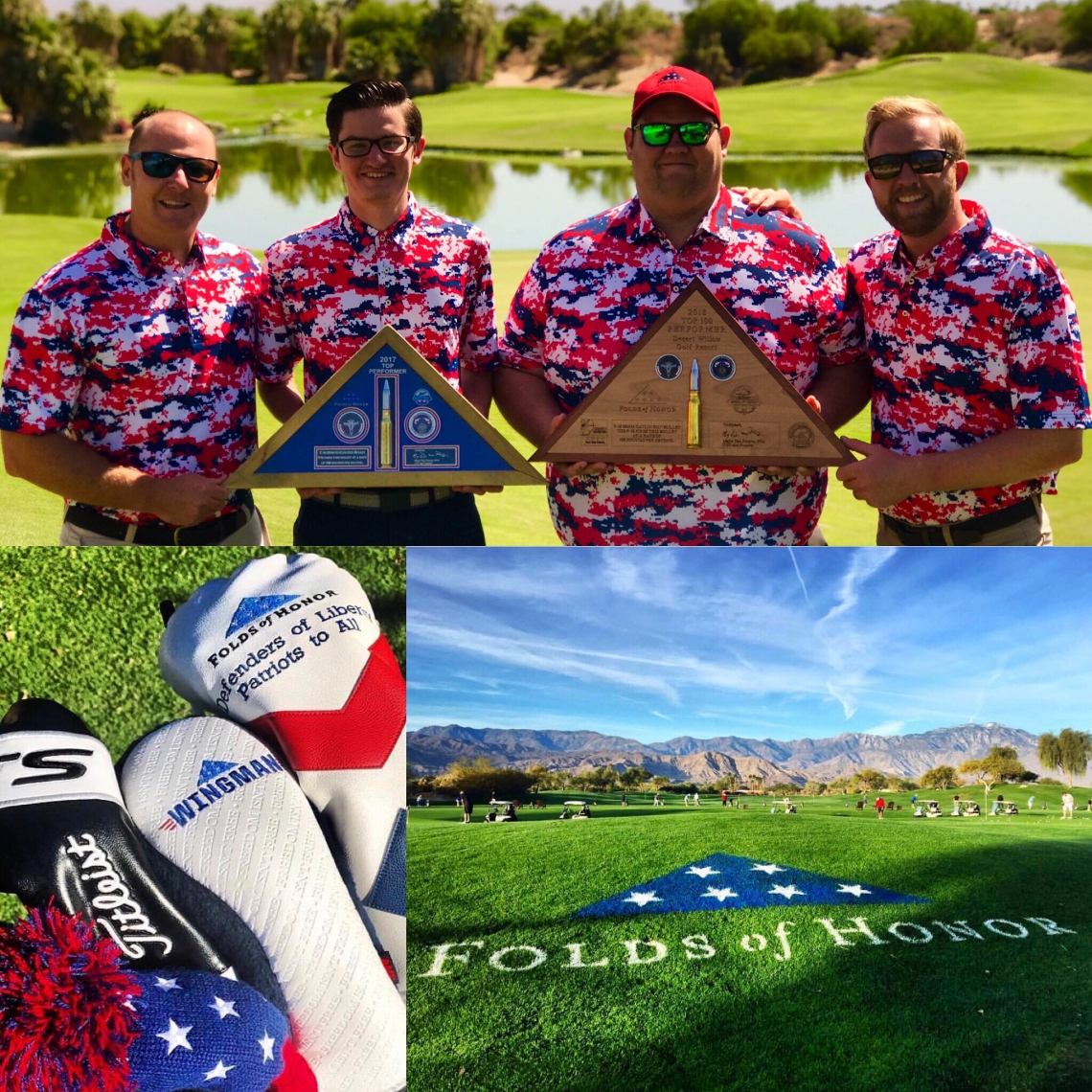 TEN lucky donors will be selected at random to compete for $250,000 in a one-shot, hole-in-one shootout* on Hole 4 Firecliff on Saturday, December 18, 2021.
*The first hole-in-one takes home $250,000.

*Shootout participants must be present on December 18 and may NOT substitute another person if not available on shootout day (Saturday, December 18, 2021). Prize winners must be present December 18, 2021 to participate in the shootout, but prizes will be awarded regardless of shootout participation.
The 10 lucky donors will also take home one of the following prizes, valued at $250 or more:
Single Academy Membership
($1,750 Value)

Scotty Cameron "Cameron and Crown" Putter ($529 Value)

Foursome of Golf at Desert Willow Golf Resort and Lunch
at The Terrace Restaurant ($850 Value)

Four Tickets to a Music and Dining Under the Stars Event

($250 Value)

Adidas Golf Outfit: Shirt, Shorts, and Shoes

($250 Value)

Footjoy Golf Outfit: Shirt, Shorts, and Shoes

($250 Value)

Oakley "His and Hers" Glasses

($250 Value)

Folds of Honor Golf Bag & PING USA Glide Wedge ($250 Value)

Hobrecht Desert Willow Wall Art and $100 Gift Card ($250 Value)
---
Folds of Honor is a 501(c)(3) charity that provides educational scholarships to the children and spouses of our fallen and disabled service members while serving our nation.
By raising your hand and participating, you are joining the ranks of an amazing group of patriots who are making a difference through the game of golf. Together, you are changing the lives of thousands of families who have sacrificed for the blanket of freedom we rest under each night. For that, we are grateful.

Since 2007, Folds of Honor has provided Higher Education Scholarships & Children Fund Scholarships that are used to subsidize the costs of tuition, school books, fees, on-campus room and board, approved educational tutoring, and other approved educational expenses that a student's school may deem appropriate.

Your donations will go a long way in allowing Folds of Honor to continue to provide the necessary and appreciated assistance to the children and spouses of our fallen and disabled service members. Despite a record year, Folds of Honor will still have millions of dollars of qualified, unfunded requests. Your donation will go a long way to help honor their sacrifice and educate their legacy.
Charitable donation of $25.00 or more is tax deductible for the Folds of Honor Foundation 501c(3) Non-Profit Organization.Tax ID: 75-3240683. Good luck and thank you in advance for your support and patriotism!​
---
Folds of Honor donations will be accepted online and in the Golf Shop until Monday, December 13th 2021
The ten $250,000 Shootout participants will be announced on Monday, December 13, 2021 via Facebook and Instagram.
*Our Professional Staff will contact donors for payment information after submission.
---

What Folds of Honor means to Desert Willow Golf Resort's PGA Golf Professionals
Thank you for your support! Please reach out to any of the following members of the Desert Willow Golf Resort Professional Staff to donate.
Ryan Szydlowski, PGA
Director of Golf
[email protected]om | (760) 346-7060 Ext. 147

Supporting Folds of Honor and spreading awareness of their mission is a way for me to give back to the families of Heroes who've made the ultimate sacrifice. I'm blessed to have an opportunity to educate guests of Desert Willow about the amazing achievements the Folds of Honor Family has accomplished so far. Even though over 86% of Folds of Honor's fundraising efforts directly benefit scholarship recipients, there is an ever-growing need to raise money for qualified unfunded requests. We've got work to do and I appreciate everyone's support!
Jason Wilkinson, PGA
Head Golf Professional
[email protected] | (760) 346-7060 Ext. 143

I graduated high school in 2002 and had many friends join the military. In 2003 the Iraq war began and my friends were deployed, upon returning from war it was when reality set in, on the severity of the situation and how they have sacrificed everything for our freedom. Supporting the Folds of Honor and honoring their sacrifice is very rewarding to me and I am blessed to have the opportunity do so.
Joe Kobrick, PGA
First Assistant Golf Professional
[email protected] | (760) 346-7060 Ext. 141

Having grown up in a family where my grandparents served in the military & coast guard, I have the utmost respect for anyone who has been through the trials and tribulations that come with being in a "military family".

When I first heard about the Folds of Honor, I was immediately blown away by the amazing commitment that the charity has to offer to the families of our fallen soldiers. There is no better way to keep a fallen soldiers memory alive than to have their spouse or children have the ability to pursue an education that will allow them to bring amazing ideas towards building our future.

I look forward to continuing to raise awareness and funds for this amazing organization, so that the legacies of our fallen soldiers can continue to stay alive.
Cody Franke, PGA
Lead Merchandiser
[email protected] | (760) 346-7060 Ext. 146

Living in Northern Illinois, the summer time was the best part of the year. The great weather, family functions and no school for kids. The summer holiday that always brought everyone together was July 4th. This time to reflect and be thankful for the opportunity and gifts, that are often taken for granted. When it came time for bed, all of the children would sleep in one big room. Above the doorway threshold rested the folded up and encased flag of Warren Ray Beattie (my great Grandfather).

I first encountered the Folds of Honor while in College at Ferris State University. At the time, we had a small event, which raised a few thousand dollars for this unknown charity to me. My curiosity sparked me to do some research and dive deeper into this wonderful cause. I was enlightened to find what the Fold of Honor does and how they touch Military families of wounded and fallen Heroes.

Their slogan of "Honor their sacrifice. Educate their legacy" is something that each person can stand behind.
| | |
| --- | --- |
| | The Folds of Honor mission is to provide educational scholarships to spouses and children of America's fallen and disabled service-members. The motto is simple: Honor Their Sacrifice. Educate Their Legacy. |