Book a Tee Time
Desert Willow Golf Resort, one of the Southern California Desert's premier golf courses, welcomes you to our online tee time reservation system. Booking one of Palm Desert's finest courses has never been so easy. Simply choose from the buttons below and you are just a moment away from confirming a tee time at Desert Willow Golf Resort.
Click on the appropriate button to book your tee time

Greens Fee Payment Update
Our Golf Shop is open for "touchless transactions" for your convenience!
Please CLICK HERE for our Golf Cart Divider Update
Desert Willow Golf Resort Back2Golf
Riverside County has ordered that all golf courses, public and private, may be opened for limited use. Here's a quick guide to
help with your upcoming visit. We look forward to seeing you soon!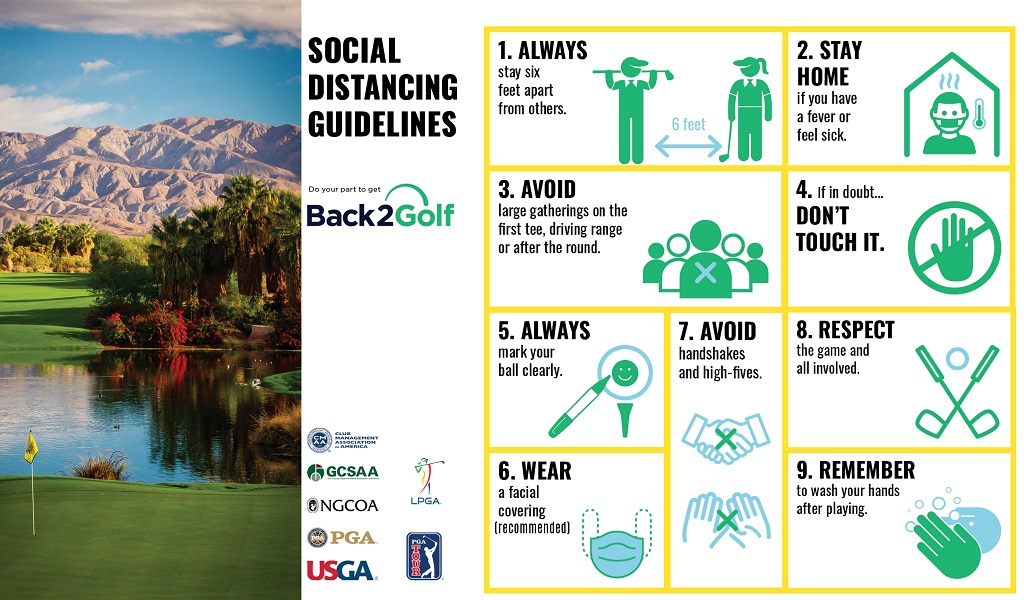 Desert Willow Golf Resort's top priority is the health and safety of our guests, staff, and community. As communities begin to re-open, golf can offer an outdoor recreational experience that provides many health and wellness benefits. The Allied Golf Organizations, in alignment with the Center for Disease Control (CDC), have developed the Back2Golf program, a comprehensive plan that allows golf to be played responsibly while observing recommended social distancing guidelines.
For Your Safety
• Practice social distancing (6 feet)
• Face coverings are required in the clubhouse and recommended on the course
• Sanitation stations have been added and the frequency of cleaning restrooms and other high-touch areas has been increased
• ICE AND WATER AVAILABLE ON COURSE
(All other food and beverage is available for purchase)
• Cart steering wheel, GPS, seat, divider, and dashboard have been sanitized
---
Changes to Operation
• OUR GOLF SHOP IS OPEN FOR TOUCHLESS CHECK-IN or you may prepay over the phone
• Practice facility stations have been spread out
• Range furniture have been removed
• Scorecards available upon request
• Utilize your own golf balls for short game warm up
• LEAVE THE PIN IN THE CUP – REQUIRED
• DESIGNATE ONE PERSON TO DRIVE CART THE ENTIRE ROUND (if sharing)
• BUNKER RAKING – USE YOUR FEET TO SMOOTH OUT SAND or USE RAKES PROVIDED (not required)
• Pool noodles have been installed in the bottom of every cup (limiting cup depth)
• Non-golfing rider access has been eliminated
• Limited Beverage Cart Service and Food Options TO-GO from Lobby Bar
Please book your tee times online or call the Golf Shop to speak with one of our customer service professionals at (760) 346-7060 Ext. 1.
All rates include golf cart equipped with Visage GPS and practice balls.
Reservations may be booked up to 60-days in advance. All reservations booked outside 3 days for Palm Desert Residents will be charged the posted rate. All residents of Palm Desert who wish to book outside of 3 days waive their resident discount and must book via the non-resident portal. Learn More...

All booked rates are not guaranteed. If customer qualifies for a discounted rate, it will be determined at the point of sale. Please call (760) 346-7060 for questions.
Tee time reservations must be cancelled no later than 48 hours prior to day of play. If a reservation is not cancelled or changed by this time, then the credit card holder will be responsible for the full green fees with the credit card being automatically charged.
2020 Overseeding Dates
Desert Willow Golf Resort will be Overseeding Firecliff and Mountain View on the following dates:
Firecliff* Closure

November 9, 2020 through December 25, 2020
*We DO NOT have any cart path only restrictions once our courses reopen from overseeding but appreciate everyone's help with 90 Degree Rule
June 1st, 2019 - October 3rd, 2019
Mens & Ladies Rental Sets - All Rental Sets include one sleeve of golf balls

Junior Rental Sets
October 4th, 2019 - May 25th, 2020
Mens & Ladies Rental Sets - All Rental Sets include TWO sleeves of golf balls

Junior Rental Sets
In 1997, the City of Palm Desert opened Desert Willow Golf Resort in an effort to increase tourism and revenue to the City. However, as a municipal golf course, the City felt that residents should have the opportunity to enjoy Desert Willow's amenities at a reduced rate. As a result, City Council approved the Palm Desert Resident Golf Card Program which provides Palm Desert residents the ability to play Desert Willow at special discounted rates. Learn More...
In order to obtain a Palm Desert Resident Golf Card, one must bring proof of residency to the Palm Desert Community Center located at 43-900 San Pablo Avenue in Palm Desert between the hours of 6:00 a.m. to 8:00 p.m. Monday through Friday or 10:00 a.m. to 2:00 p.m. on Saturdays.
According to the City Council approved Palm Desert Resident Golf Card Guidelines and Rules, proof of Palm Desert residency consists of a valid California Driver's License or Identification Card with the applicant's name and Palm Desert address and a current utility bill (i.e. gas, water, or electric not more than 30 days old) with the applicant's name and Palm Desert service address. If the applicant does not have a valid California Driver's License with Palm Desert address, they may obtain a California Identification Card issued by the Department of Motor Vehicles. Please note that both of the requested proof of residency items must reflect the name of the resident and same Palm Desert address. No exceptions will be made.
If you would like more information on the Palm Desert Resident Golf Card Program, please call (760) 346-0611, ext. 425, or contact us.
RESIDENTS WILL BE REQUIRED TO SHOW A VALID PALM DESERT RESIDENT CARD AT TIME OF CHECK-IN. A DRIVER'S LICENSE IS NOT A VALID PROOF OF RESIDENCY.
---
Residents of Palm Desert Policy
The City of Palm Desert requires that all Palm Desert Residents show their valid City Resident Card when checking in to play golf at Desert Willow Golf Resort.
General use of Practice Facility, Chipping, Putting, and Full Swing areas....$25.00 per person*
*Desert Willow Golf Resort requires that all guests check in prior to playing golf or using any area of the practice facilities.

Members of the Platinum Club Card program are entitled to a 50% discount off of the driving range rate.
Same Day Replay
Replay rates are based on availability. If you would like to guarantee your second round please book both rounds of golf in advance using our tee time portal for best available rates. Same day replay rates do not apply to rounds booked in advance.
Current hours of operation at Desert Willow Golf Resort are listed below.
Main Clubhouse Services

Clubhouse




6:00 AM to 5:00 PM | Daily



---
Golf Services

Golf Shop




6:00 AM to 5:00 PM | Daily




Practice Facility




Closed for maintenance after 12:30 PM every Monday and Thursday
---
Palm Desert Golf Academy

Monday to Friday




9:00 AM to 5:00 PM





Saturday and Sunday




By appointment only
---
Food and Beverage Services

The Terrace Restaurant




Available for outdoor dining only


Breakfast: 7:00 AM to 11:00 AM | Daily
Lunch: 11:00 AM to 3:00 PM* | Daily
Twilight:

3:00 PM to 5:30 PM | Sunday to Wednesday


*Kitchen closes at 5:30 PM

Cook's Grill




6:00 AM to 2:00 PM | Daily
Golf Cart Dividers
| | |
| --- | --- |
| | We will be pairing up guests this season using California Health Department Approved Golf Cart Dividers. We have sourced the best option on the market to ensure the safety of our guests and best in class playability of our golf courses, all season long. We value your time and appreciate that you have a considerable amount of options to play world-class golf courses in the Coachella Valley and continue to choose to play Desert Willow Golf Resort. |
Our goal is to alert everyone before arrival, that single rider carts will not be offered this season. The decision to eliminate single rider carts was not an easy one; we regret that we won't have an opportunity to facilitate special requests this season.
If you feel uncomfortable riding with someone else, please give call the Golf Shop in advance so we can cancel your reservation and invite you back when we are able. To contact the Golf Shop call (760) 346-7060 Ext. 1.