Dinner at The Terrace Restaurant at Desert Willow
The Dinner Menu and all indoor and outdoor dining is currently unavailable.
Click Here for the Take Out Menu

The Terrace Restaurant at Desert Willow Golf Resort is excited to announce that dinner service will be offered starting Thursday, October 15th. Unwind on our spacious outdoor patio offering breathtaking views of the sun setting over Firecliff 9 and 18, all while savoring an unforgettable meal. Enhance your experience with a handcrafted cocktail, a craft beer from one of our local breweries, or a perfectly paired glass of wine.
Dinner

is available Thursday through Saturday




from 4:00 PM to 8:00 PM, outdoor dining only.


*Kitchen closes at 8:00 pm.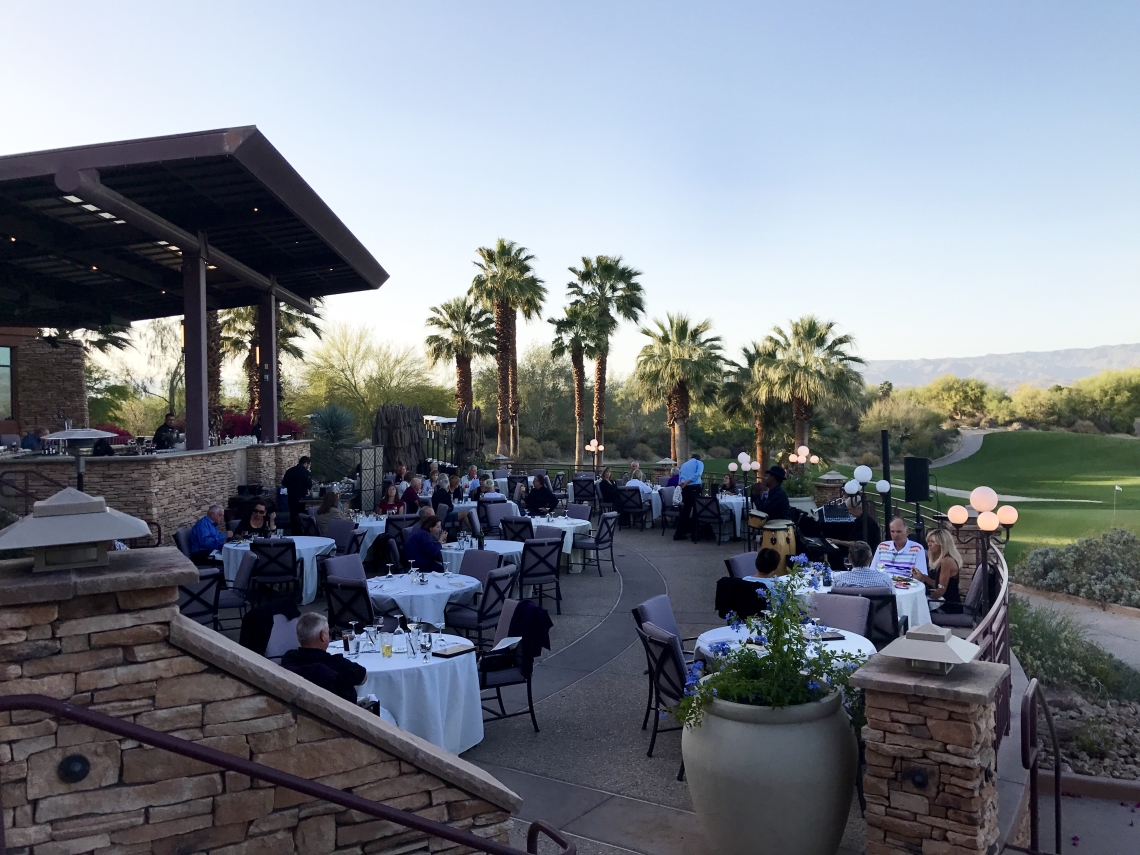 Dinner Menu
Jumbo Chicken Drumettes 9.99


tossed in choice of buffalo or honey balsamic sauce
served with carrot and celery sticks and ranch dip

Bacon Double Cheese Sliders 10.99


two beef sliders topped with bacon and cheddar cheese
served with french fries

Blistered Shisito Peppers 8.99




mild pepper with fleur de sel chipotle dressing

Crab Cake Slider Duo 14.99




served with pineapple salsa and tartar sauce

Onion Ring Tower 8.99




served with ranch and chipotle dressings

Coconut Shrimp 8.99




deep fried, served with pineapple salsa and asian sauce

Cobb Salad (gf) 16.99


iceberg lettuce topped with ham, turkey, bacon, bleu
cheese, hard boiled egg, tomato, Monterey Jack cheese, dried cranberries, and avocado served with choice of dressing

Caesar Salad 9.99
chopped Romaine lettuce with brioche croutons and shaved Parmesan cheese tossed with Caesar dressing with a hint of anchovy
Add Grilled Chicken 14.99
Add Pan Seared Shrimp 16.99
Add Scottish Salmon 17.99

Shrimp and Lobster Louie Salad (gf) 20.99




poached shrimp and lobster with chopped Romaine, Boston lettuce, cucumber, roasted tomato, radish, bacon bits, and hard boiled egg tossed in a Louie dressing

Wedge Salad (gf) 6.99




Iceberg wedge topped with bacon bits, tomato, bleu cheese crumble, and green onion served with bleu cheese dressing

House Terrace Salad (gf) 6.99

Shrimp Scampi 19.99




pan seared shrimp with a butter and white wine scampi sauce served with fettucini pasta and garlic bread

Firecliff Burger 16.49




1/2 lb gourmet burger blend with roasted red pepper jalapeno bacon, pepper jack cheese, and chipotle sauce served on a sesame seed bun and choice of side

Salmon Asparagus Risotto (gf) 21.99




seared salmon asparagus risotto with parsley sauce

Palm Desert Burger 14.99




1/2 lb gourmet burger blend with your choice of cheddar or Monterey Jack cheese served with onion, tomato, pickle, and choice of side

Fish Tacos (gf) 15.99


three pan seared fish tacos with pico de gallo,
tortilla chips, and guacamole

Slow Cooked Short Ribs (gf) 23.99


slow cooked short ribs served with mashed potatoes
and braised vegetables

Cheesecake Bar 7.99




served with vanilla and raspberry sauce

Ice Cream Sundae 7.99




housemade ice cream sundae with assorted toppings

Dark Chocolate Mousse 7.99




with a pecan orange brownie and whipped cream

Grand Marnier Semi Fredo Parfait 7.99




drizzled with caramel sauce
All indoor and outdoor dining will be unavailable starting Sunday, December 6, 2020.
Reservations are suggested for parties of six (6) guests or more. To make a reservation, please call (760) 346-7060 Ext. 100 before 5:00 PM.
An additional $4.00 will be added for splitting an entree. Please alert your server of any food allergies, as not all ingredients are listed on the menu.
A gratuity of 18% will be added to parties of eight or more. Split Checks on large parties of eight or more up to (4) checks per party. (GF) Items have Gluten Free options available. Ask your server for complete details. Consuming raw or uncooked meats, poultry, seafood, shellfish, or eggs may increase your risk of food borne illness.