Back2Golf at Desert Willow Golf Resort
Riverside County has ordered that all golf courses, public and private, may be opened for limited use; therefore Desert Willow Golf Resort is excited to announce that both Firecliff and Mountain View has been reopened for play utilizing the Allied Golf Organizations,

Back2

Golf

program, in alignment with the Center for Disease Control (CDC).
For more information regarding COVID-19 and the latest Executive Order from the County of Riverside visit www.rivcoph.org/coronavirus

Tee times must be paid before play and can be booked online at www.desertwillow.com/teetimes or by calling the Golf Shop at (760) 346-7060 Ext. 1.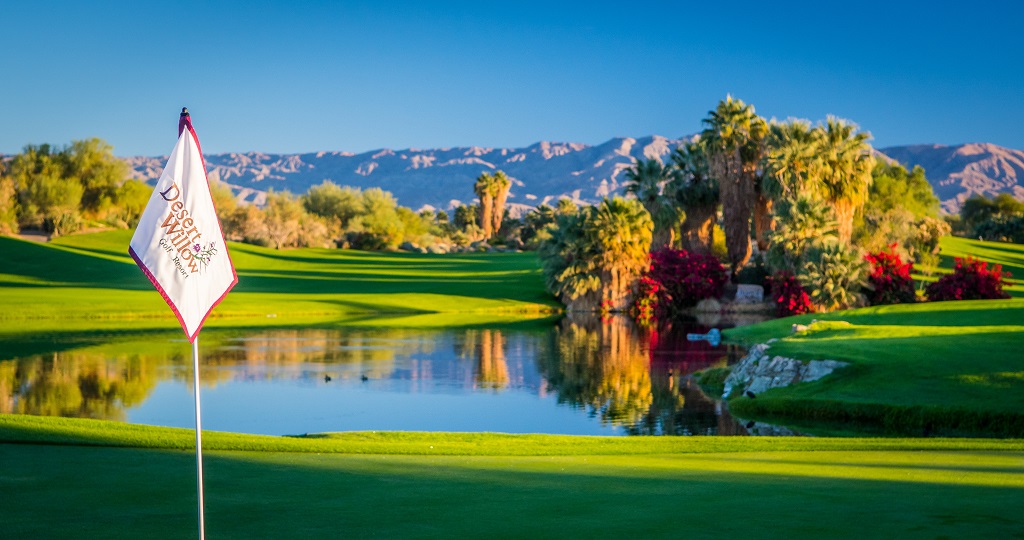 As communities begin to re-open, golf can offer an outdoor recreational experience that provides many health and wellness benefits. The Allied Golf Organizations, in alignment with the Center for Disease Control (CDC), have developed the Back2Golf program, a comprehensive plan that allows golf to be played responsibly while observing recommended social distancing guidelines.
Desert Willow Golf Resort Back2Golf
Here's a quick guide to help with your upcoming visit.
We look forward to seeing you soon!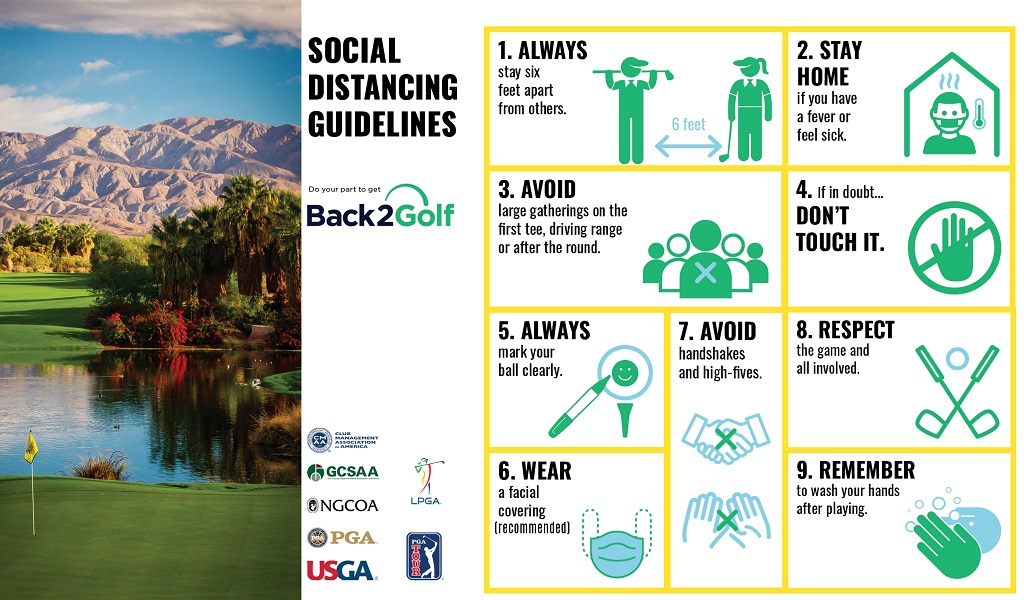 FOR YOUR SAFETY
Desert Willow Golf Resort
Back2Golf
• Practice social distancing (6 feet)
• Face coverings are recommended
• Sanitation stations have been added and the frequency of cleaning restrooms and other high-touch areas has been increased
• ICE AND WATER AVAILABLE ON COURSE
(All other food and beverage is available for purchase)
• Cart steering wheel, GPS, seat, and dashboard have been sanitized
CHANGES TO OPERATION
Desert Willow Golf Resort
Back2Golf
• PREPAY GOLF OVER THE PHONE OR USE OUR TOUCHLESS CHECK-IN AT THE GOLF SHOP
• Practice facility stations have been spread out
• Range furniture have been removed
• Scorecards available upon request
• Utilize your own golf balls for short game warm up
• LEAVE THE PIN IN THE CUP – REQUIRED
• DESIGNATE ONE PERSON TO DRIVE CART THE ENTIRE ROUND (if sharing)
• BUNKER RAKING – USE YOUR FEET TO SMOOTH OUT SAND
• Pool noodles have been installed in the bottom of every cup (limiting cup depth)
• Ride along only access has been eliminated
• Limited Beverage Cart Service and Food Options TO-GO from Lobby Bar; outdoor dining only
For any additional information please call the Golf Shop at (760) 346-7060 Ext. 1.
#playdesertwillow #desertwillowgolfresort
---
Desert Willow Golf Resort is OPEN FOR OUTDOOR DINING SERVICE & TAKE OUT. Outdoor dining and Take Out are available daily from 7:00 AM to 4:00 PM. Call in orders only. Call (760) 346-7060 Ext. 104. to place your order and choose a pick up time (credit cards only).