Thanksgiving Day Buffet
Thursday, November 23, 2017
This Thanksgiving let us take care of the cooking and the dishes. Treat your family and friends to an unforgettable traditional Thanksgiving Day buffet while enjoying some of the best views in Palm Desert. Seatings are available every half hour from 12:00 pm until 4:00 pm.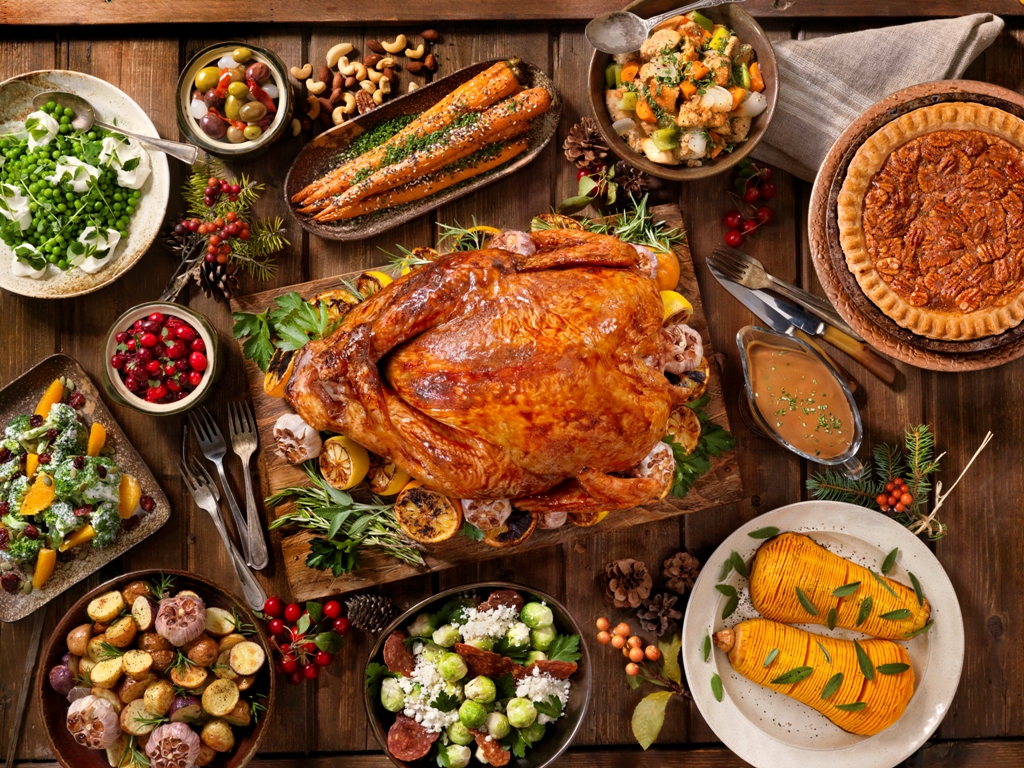 ---
THANKSGIVING DAY BUFFET MENU
Displays
Seasonal Fruit and Berries
International Cheeses and Breads
Warm Onion Leek Dip
Seafood Display

Soups, Salads, and Starters
Butternut Squash and Chestnut Soup
Waldorf Salad
Cranberry Fluff
Roasted Beets with Goat Cheese and Walnuts
Crimini Mushrooms in a Balsamic Reduction
Kale Salad with Dried Cranberries and Roasted Pine Nuts
Tomato and Mozzarella Caprese Salad
Butternut Squash and Roasted Brussel Sprout Salad
Boston Bibb Salad with Roasted Onions and Croutons in a Champagne Vinaigrette
Mini Wedge Salad
Caesar Salad
Greek Salad
Roasted Vegetable Salad

From the Carving Station
Roasted Turkey Breast with Gravy and Cranberry Sauce
Slow Cooked Braised Brisket with Onion Soubise

From the Buffet
Yellow Squash Ravioli with Hazelnut Cream Sauce
Beer Brine Salmon over Forbidden Wild Rice Risotto
Green Bean Casserole
Old Fashioned Mashed Potatoes
Carrot Flan with a Cream of White Beans and Garlic Crumble
Tomato Provencal
Traditional Stuffing
Maple Candied Yams

Dessert Station
Fresh Baked Pies including Apple, Pecan, Key Lime, and Pumpkin
Cheesecake
Chocolate Cake
Chocolate Mousse Cup
Crepes Suzette with Vanilla Ice Cream

Beverages
One Complimentary Glass of Champagne
Coffee, Hot Tea, Iced Tea or Orange Juice
---
PRICING
Adults....$49.99*
Children (6 to 12 years old)....$19.99*
Children (Under 5 years old)....Complimentary
---
RESERVATIONS
Reservations are required and are extremely limited. Call (760) 346-0015 Ext. 100 for availability.
*Price is subject to tax and gratuity.
---

Disclaimer: Terrace seating is first come first serve by reservation. Request highchairs in advance. Parties of 8 or more carry an automatic 18% gratuity. All reservations require a credit card in advance. Cancellations made less than 48 hours in advance are subject to a $50.00 cancellation fee. Special dietary requests need to be requested in advance.